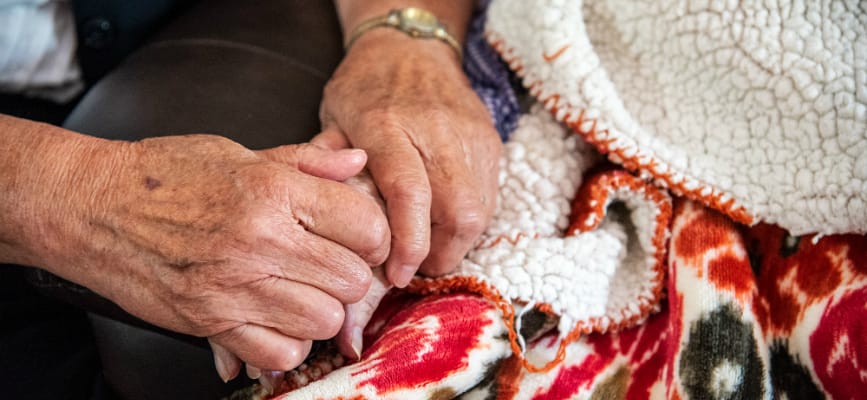 Palliative care focuses on keeping an individual comfortable and pain-free when the disease processes they are experiencing are not curable, and/or active treatment has been discontinued.
We understand the difficult times those in our care and their loved ones go through in preparation for the end of life. At these times, hospice services may be a good option. Working together with SMP Health – Ave Maria staff, hospice representatives strive to help maximize the resident's comfort and control their pain and other symptoms as they go through the process of preparing for death. Hospice also provides additional spiritual and emotional support to the resident and their loved ones during this time.
SMP Health - Ave Maria maintains contracts with three regional hospice providers. These are:
Jamestown Regional Medical Center Hospice
Hospice of the Red River Valley
CHI Hospice
A hospice representative will perform an initial assessment to see if the person qualifies for hospice services, including the availability of coverage under Medicare, Medicaid, and/or other third party payers. If the individual is determined to be appropriate, hospice services can be initiated. A plan of care is developed jointly between SMP Health – Ave Maria staff, the hospice provider, and the resident and their family.
It is important to note that if/when hospice comes into the picture, the services they provide are in addition to those already being provided by SMP Health – Ave Maria staff. Everyone involved works closely together for the benefit of the resident and their loved ones.
Residents who have been determined to be in the active dying process can use the McCoy Family Suite during this time. The McCoy Suite is a large, private, family-friendly room with a number of amenities for the comfort of the resident and their visitors. Loved ones of the resident are invited and encouraged to spend as much time as they wish with the resident during this difficult but sacred time.
Please reach out with any questions or concerns you might have.
Learn More about the McCoy Family Suite here.
Request more Information or schedule a tour of the McCoy Family Suite.
Our goal for residents needing palliative care is to make them and their loved ones as comfortable as possible. Please reach out with any questions or concerns you may have.