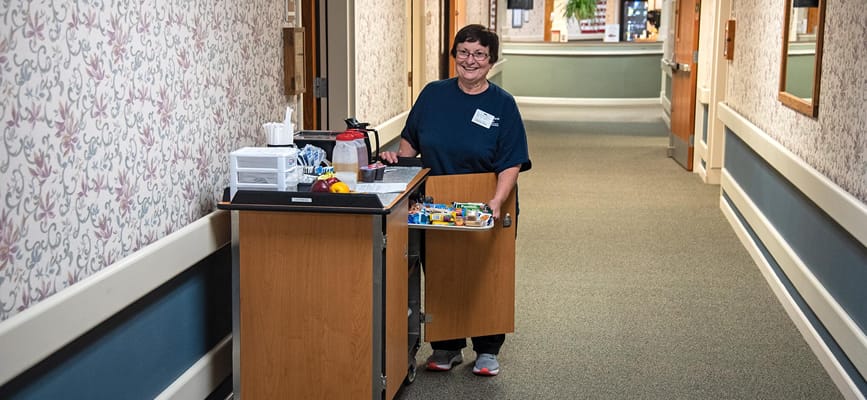 Past
SMP Health – Ave Maria opened its doors in 1962 as Central Dakota Nursing Home. The facility was built in response to a need identified by residents of the Jamestown area for a home for the aged with a Christian philosophy and atmosphere. With the help of local leadership and fund raising, the facility was built by Lutheran Hospitals and Homes Society of Fargo, North Dakota (later known as Lutheran Health Systems), who operated it from 1962 to 1995. At that time, Lutheran Health Systems merged with Banner Health, another not-for-profit health care system, based in Phoenix, Arizona.
In 2000, Banner Health decided to divest itself of all its hospitals and nursing homes in North Dakota. Five of these facilities, including Central Dakota, were acquired by the Sisters of Mary of the Presentation Health System (SMPHS), based in Fargo, which took over operations in 2002. This was the beginning of our Catholic sponsorship.
A major renovation and addition to the facility were completed in 2004, and we changed our name to Ave Maria Village in 2008. A chapel, transportation center, and hospice suite were added in 2013.
In 2021, with intentions of better reflecting the Catholic identity of our faith-based ministry, Ave Maria Village was changed to SMP Health – Ave Maria.
Present
Today, we strive to provide compassionate care in the spirit of Christ to our residents. The characteristics of our residents however have changed over the years. Because individuals often need a longer period of recuperation and rehabilitation before returning to their own home after surgery or a hospital stay, we have remodeled ten of our resident rooms to become short-term rehabilitation and transitional care suites. Largely due to shortened hospital lengths of stay over the years, many of our residents have very complex medical issues requiring more care and resources than in the past. While our physical environment is attractive and has served well through the years, the original building is nearing 60 years old, which presents many challenges.
Future
Health care is a continually changing field, and the future for SMP Health – Ave Maria will be as challenging as it is exciting. For our future residents, privacy will be paramount. Therefore, we plan to create additional private rooms in order to meet that expected demand. We will continue to enhance our food service and dining experience by providing greater variety and more options and choices. Technology will also be of utmost importance. We will work to offer advanced electronic capabilities and adaptive equipment to meet our residents' social and physical needs, and to keep up with the latest developments in the health care field.
Our goal is to help our residents maintain their personal independence and quality of life, which is why we will continually work to find new and different ways to deliver healing hospitality and care.