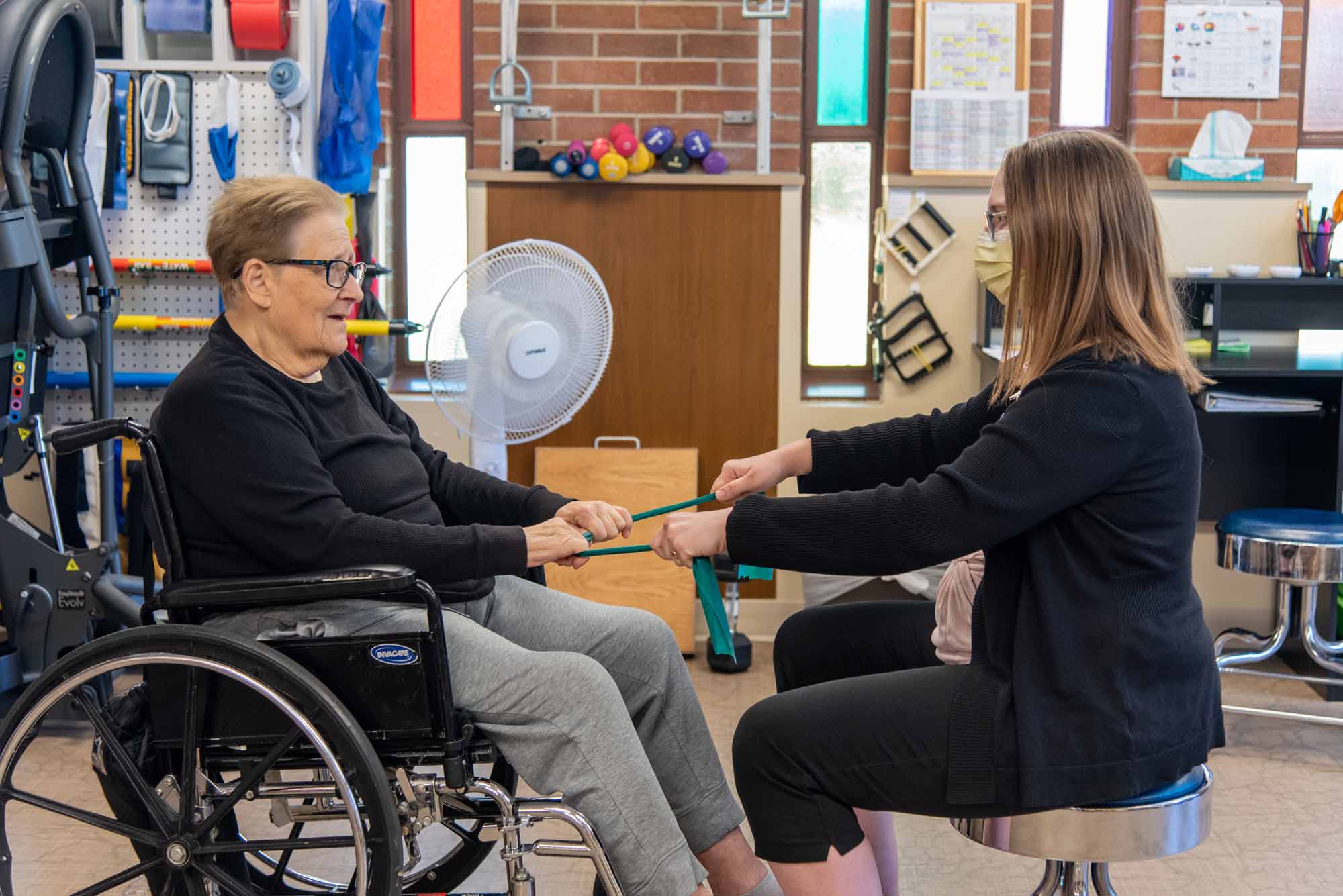 At SMP Health – St. Raphael, our licensed health care professionals offer rehabilitation services, including speech therapy, physical therapy, and occupational therapy. Our team works together to treat residents who have had strokes, brain injuries, amputations, swallowing difficulties, joint replacements, or generalized weakness due to chronic illness. We develop individualized rehabilitation programs for each patient with the goal of returning residents to their highest possible level of functioning and personal independence.
PHYSICAL THERAPY
Training in bed mobility, transfers, and gait (with or without an assistive device)
Treatment of lower body functionality limitations
Strength training and coordination
Range of motion therapy
Stroke or aneurysm
Orthopedic impairment
Cardiopulmonary dysfunction
Neurological disorder
Decubitus ulcer/wound care
Chronic pain
Other general medical problems
OCCUPATIONAL THERAPY
Fine and gross motor control development
One-handed dressing techniques, grooming, bathing, and home management skills
Training in the use of self-help aids
Cognitive skills development
Upper body strengthening and coordination
Home evaluation to assess need for adaptive equipment and to promote safety
SPEECH THERAPY
During speech therapy, residents are evaluated and treated for hearing, language, communication, and swallowing disorders. We focus on improving speech-language expression, comprehension, oral motor skills, and strategies for safe eating. Speech therapy may include:
Receptive/expressive language therapy
Aural rehabilitation
Swallowing management
It may seem difficult to know if you're asking the right questions as you seek rehabilitation services for yourself or for those you love. Our team is here, and ready to help you every step of the way.