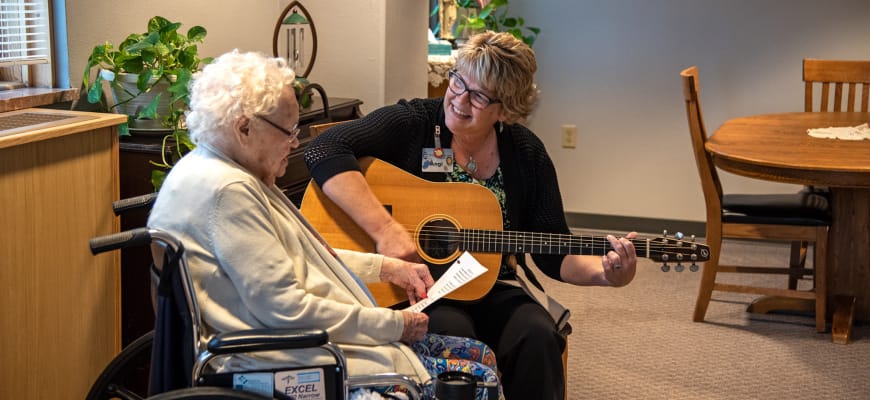 Music Therapy is the clinical and evidence-based use of music interventions to accomplish individualized goals within a therapeutic relationship by a credentialed professional who has completed an approved music therapy program.  Music therapy interventions can be designed to promote wellness, manage stress, alleviate pain, enhance memory, improve communication, and provide unique opportunities for interaction.  Research in music therapy supports the effectiveness of interventions in many areas such as facilitating movement, increasing motivation to engage in treatment, providing emotional support for clients, and creating an outlet for expression of feelings.
Music therapy treatment is efficacious and valid with persons who have functional deficits in physical, psychological, cognitive and social functioning.  Individuals in a long-term care setting may experience feelings of isolation, confusion, loneliness and depression as well as decreased physical functioning.  It can address the individual needs of residents in a success-oriented, non-threatening atmosphere which fosters increased interaction among fellow residents.  In addition, music therapy can provide opportunities for increased self-expression and creativity and boosted self-esteem. Music is a form of sensory stimulation which provokes responses due to familiarity, predictability, and feelings of security associated with it.
Music therapy at SMP Health – St. Raphael is implemented and overseen by board certified and licensed music therapist Angela Hansen.  Music therapy and related music groups include, but are not limited to, Sing along, improvisational instrument play, movement to music, music games, active listening, instrumental groups such as Kitchen Band or Drum Circle, songwriting, music relaxation, Chime Choir, and 1-1 music therapy.  Participation in these programs or 1-1 music therapy allows residents to experience success, relaxation, and enjoyment while meeting care plan or treatment goals.
The Musical Neighborhood Planner assists Angi in providing musical group and 1-1 visits in the Sycamore Special Care Unit and Circle of Life Cottage, as well as implement and maintains the Music and Memory program which specializes in providing personalized playlists for residents who wish to have them.
"As I told you, Angi, I will always appreciate the music you did for Mom at SCC.  I hope you know that your music therapy was why I kept her there.  It was my dad's wish that I move Mom closer to me in Georgia, but I could not find a nursing facility here that promoted a strong music program for the elderly…Shelley Williamson."
"Thank you for all the time spent with my Mom in the Chime Choir.  How she loved it!  Now she is chiming in Heaven!  From Jo's daughters, Linda and Judy."
As you explore options for yourself or your loved ones, it's important to ask the right questions. Our team is here, and we're ready to help you every step of the way.