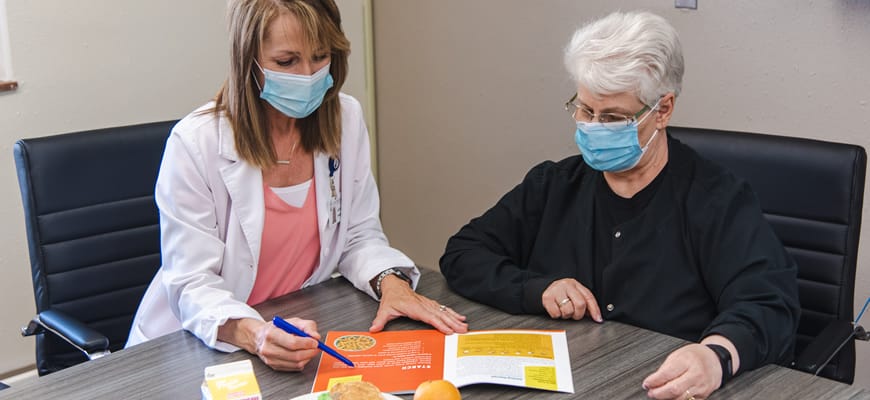 SMP Health – St. Aloisius Long Term Care is a 75-bed facility with 49 private rooms and 13 semi-private rooms (26 beds) available.  All beds are Medicare/Medicaid certified.  We provide 24-hour nursing care by licensed nursing staff.  Our team of experienced professionals includes:
Registered/licensed nurses
Certified nursing assistants
Psychiatric Mental Health Nurse Practitioner available for consultation
Licensed registered dietician on staff
Licensed therapists and restorative aides who focus on providing quality services prescribed by physicians.
We strive to accommodate the various levels of care needed by each individual in a home-like atmosphere.  We are a large employer in a small rural community allowing us the opportunity to care for our relatives, friends, and neighbors which adds to our home-like atmosphere.
Rehabilitative Therapies
Occupational, physical and speech therapies are available as each physician orders.  Our therapy staff works together as a team to help our residents reach their highest potential, whether the goal is to return home or stay in long term care.
Activities
Our Activities staff has a very busy and well-organized program, providing a variety of activities from which to choose.  The activity staff strives to meet the needs of each resident.  We have many special events and programs throughout the year.  Many residents are involved with crafts and hobbies.  Along with the various activities we provide a tv/basic cable service is provided at no charge in each resident room.  Full beauty salon located on site at SMP Health – St. Aloisius Long Term Care where volunteers or your own beautician can come to our facility.
Dietary Services
The Dietary Department promotes optimum nutritional status in accordance with physician's orders and consistent with the resident's individual needs.  The meals are provided with alternative choices which enhance resident preferences.  We have a registered dietitian who ensures appropriate dietary interventions are provided and that the meals planned meet regulatory standards.
Pastoral Care
Our full-time pastoral care provides spiritual nurturing and support.  Worship services are held regularly with special services offered celebrating the different seasons of the Christian Church year.  Devotions and Bible studies are held at various times during the weekdays.  Ministers from all Christian denominations are welcome.
Social Services/Admissions/Discharges
A licensed social worker is available full-time to residents and families.  We strive to assist each resident and their families in meeting their personal, social, emotional and environmental needs.  The social worker also acts as a resident's advocate, to ensure that high-quality care is given to each and every resident.  All admissions and discharges are coordinated by the social worker.
Accounting
Our business office is equipped to handle any question you may have regarding your finances such as insurances, Medicare and Medicaid.
We assist residents with postage needs, deliver the mail and take care of the resident trust accounts.
The resident trust account is similar to the resident having a bank account and they can request funds out of their account for their own needs like snacks, outings, hair care, etc.  Since we don't advocate our residents having their extra cash in their rooms, we offer a way that they can have some funds with easy access if they want to go shopping or have their hair or nails done, for example.  "Deposits" can easily be made to an individual's  resident trust account in the Business Office.
Housekeeping, Maintenance, Laundry
We endeavor to provide a clean, beautiful and home-like atmosphere for our residents.  We provide laundry services for the facility as well as personal laundry services for all residents.
Schedule a tour of our Skilled Nursing Facility today!
As you explore options for yourself or your loved ones, it's important to ask the right questions. Our team is here, and we're ready to help you every step of the way.