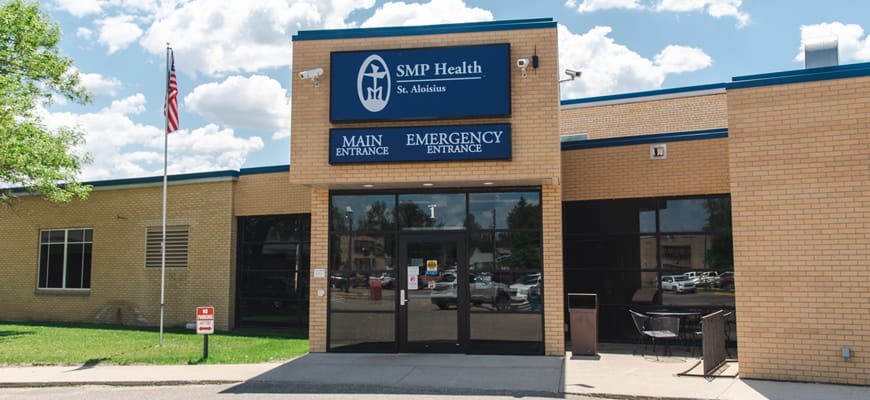 Our facility has a rich, winding history that dates back well over 100 years and more than 80 of those years have been with the Sisters of Mary of the Presentation. Read more about it below.
1910
An association was formed and a stock company was organized for the purpose of building a hospital.
1913
Ground was broken January 23, 1913.
1914
The Harvey Hospital was opened March 23, 1914 by the Clark Brothers, assisted by Dr. Nugent and an unidentified female doctor. The Hospital provided efficient services, but it was short-lived due to financial difficulty.
1916
The Harvey Hospital was reorganized with a change of directors. Dr. Robert Reimche was in residence, assisted by Dr. Robb.
1918
Dr. Reimche died, and Dr. Titzel, a surgeon from Des Moines, Iowa, took his director position. Unfortunately, the hospital was closed due to lack of success. The building was used as apartments and soon became classrooms for Harvey Public School.
1927
Dr. John J. Seibel re-opened the building as a private hospital.
1930's
The hospital conducted operations as the Lutheran Good Samaritan Hospital.
1938
The stockholders offered the hospital for sale to Reverend Charles A. Eck, Pastor of the St. Cecelia Catholic Church. After deciding to accept the offer of the stockholders, the Sisters of Mary of the Presentation took charge on the morning of October 16, 1938. The first baby born in the new establishment was Duane Holzer from Manfred, ND born on October 19, 1938.
1943
The hospital was enlarged and improved to meet the existing demands of the Harvey community and the surrounding areas.
1958
A new 51-bed hospital was built and dedicated, and the old building was converted into a nursing home.
1974
A new extended care facility with 56 beds was built and dedicated.
1978
A new clinic building was constructed next to the hospital.
1979
Construction of a new intermediate care facility that housed 60 residents was completed and dedicated.
December 1989
A 6-unit independent senior living community was built.
1994
SMP Health – St. Aloisius added a 10-unit independent senior living community.
2002
An on-site daycare center was opened for hospital employees.
April 2005
A grant was received for the addition of a cardiac rehabilitation unit, which was later expanded and used as a wellness center for St. Aloisius staff and community members.
August 2006
The GIFT campaign was completed, raising over $1.2M. The funds were used for a new emergency room, radiology department, front lobby, business office, and updates to the front of the building.
August 2007
A new CT scanner was installed.
2008
A sprinkler system was installed throughout the hospital and long-term care areas. The laboratory moved to the Outpatient Service Center (old clinic building next to the hospital) in November, allowing more room for equipment and patient laboratory services.
2009
The old laboratory and radiology area was renovated to include a new operating room waiting area/staff lounge and an expansion of the wellness center.
2010
A new electronic sign was installed at the front of St. Aloisius on Brewster Street.
2014
Total LTC renovation which resulted in total rebuild except for the exterior shell.  This provided more private rooms and essentially a new LTC building.
2018 / 2019
Upgraded the CT scanner to 32 slice and Mammogram to 3D in our Radiology Department and added a new DEXA Scanner to check bone density for Osteoporosis.
August 2018 – Opened the new St. Aloisius Clinic in the old clinic building located next to the hospital in August 2018 after renovation project was completed.  Within a few months Saturday clinic hours were added.
Therapy Department – added Dry Needling.
2020
March – Remodeled old Dentist office space in basement of the Clinic for Therapy Department giving more space for exam rooms and exercise space with patients.
TODAY
We have 70 extended care beds, mostly private rooms,(as of October 1, 2022) licensed for skilled care and 25 beds licensed for acute care under the Critical Access Hospital status. Our SMP Health – St. Aloisius Rural Health Clinic will continue to grow with many providers and new services available.
We've grown in the Harvey community and we will forever remember our beginnings.