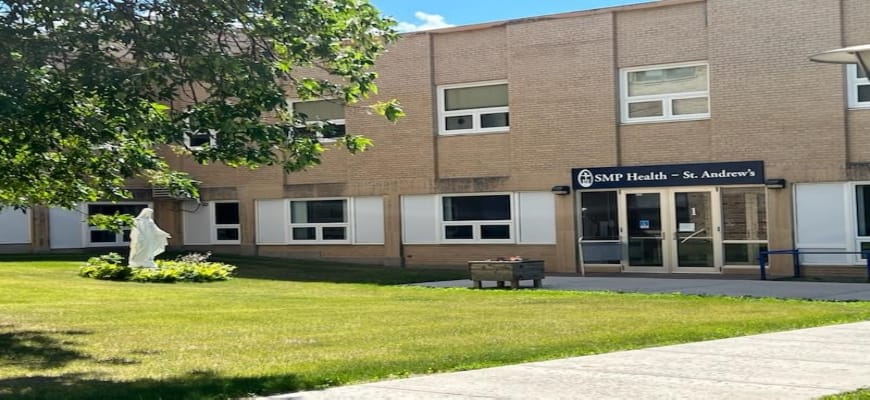 Our facility has a rich, winding, history that dates back over 100 years. Read more about it below.
1911
St. Andrew's Health Center was founded by Father Joseph L. Andrieux, Pastor of St. Mark's Church, in collaboration with Dr. J.A. Johnson, Dr. Alexander Russell MacKay, and other community leaders. He obtained a building from the School of Forestry located on the bank of the creek.
1913
With the Provincial Superior of the Sisters of Mary of the Presentation, Fr. Andrieux arranged to employ sisters for the healthcare facility. The first of these sisters arrived in September. After staffing rose to seven sisters, the hospital opened on October 10, 1913.
1918
A new hospital building was erected.
1920-1921
In six months between these years, three of the founding sisters died (Sr. Olympe, Sr. Marie Gildas, and Sr. Gilbert). A hospital staffed by the sisters in Spring Valley, IL provided much needed assistance by sending two nurses (Sr. Marie Rosaire (Mother Rose) and Sr. Joseph).
1928
The hospital building that was erected in 1918 needed upgrades to accommodate the Bottineau community. Its size was doubled by the addition of a new wing, which included 22 rooms and two large wards that were able to house over 40 patients.
1938
A four-story nurse's dormitory was built with accommodations for 50 students.
1956
A grant from the Ford Foundation was used in the construction of a new ambulance entrance and a new wing, which housed new obstetrics, central service, and laundry departments.
1959
To invite greater community involvement in the operation of St. Andrew's, an advisory board was organized. The board coordinated the facility's first fundraiser for an x-ray machine and boiler equipment the following year. The goal was to raise $35,000. The fund drive netted $29,613.
1966
The healthcare facility required additional upgrades, and another fundraiser was launched. The total expansion project cost was $2.2M and was completed in 1970. This is the present St. Andrew's.
1986
The 1957 addition was renovated into 14 apartments.
1993
St. Andrew's changed its name from St. Andrew's Hospital and Nursing Home to St. Andrew's Health Center.
1996
The nurse's dorm was demolished and apartments were constructed on the southeast side of the facility.
1999
The former ambulance garage and conference room on the northwest side of the healthcare facility were remodeled to become St. Andrew's Clinic, which includes nine exam rooms and a minor surgery room.
July 2000
St. Andrew's was designated as both a Level IV Trauma and a Critical Access Hospital. A number of changes were made to meet requirements of Critical Access Hospital designation.
September 30, 2001
St. Andrew's de-certified its nursing home beds.
December 2002
The 1986 apartment space was allocated into offices and storage space.
July 1, 2004
St. Andrew's was designated as a Trauma Level V hospital.
October 1, 2004
St. Andrew's Clinic changed its designation to a Rural Health Clinic.
2001-2005
St. Andrew's had a campaign drive to assist with its financial viability.
May 2014
The emergency room renovation project was completed, expanding from a 2-bed to a 4-bed emergency room. A campaign drive assisted to fundraise for the project.
February 2016
The St. Andrew's Health Center Auxiliary made the difficult decision to disband. In addition, St. Andrew's Health Center had a generator upgrade to meet the ND Life Safety Code requirements. The new generator provides 500kw of power which is sent to necessary medical equipment, patient rooms, bathrooms, and hallways.
October 1, 2021
St. Andrew's changed its name from St. Andrew's Health Center to SMP Health – St. Andrew's.
Today
St. Andrew's is currently licensed as a 25-bed Critical Access Hospital with a Rural Health Clinic and 14 apartment units called St. Andrew's Apartments. Although the original hospital that Fr. Andrieux initiated in 1913 has now been completely replaced, we will forever remember our beginnings.