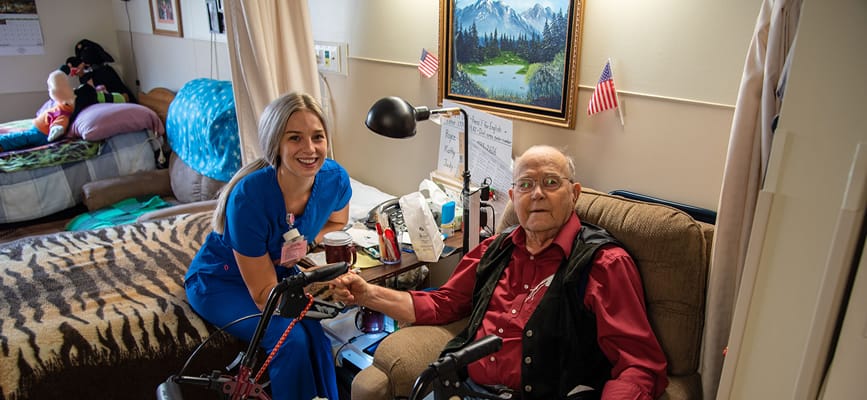 Our Catholic nursing home provides compassionate care to all of our residents. Our skilled nursing staff aims to meet physical, social, psychological, and spiritual needs by learning their patients' needs, likes, and habits.
SERVICES OFFERED
Skilled, compassionate nursing
Social Services/Individualized activities
5 meal a day program
Registered dietitian on staff
Spiritual support staff
Catholic and protestant services weekly
Hospice available
Barber/Beauty shop
Animal and pet visits
Home-like atmosphere where our residents feel connected
REHABILITATION SERVICES
Physical Therapy
Occupational Therapy
Speech Therapy
COMMUNITY SERVICES
Adult daycare program
Support groups for care givers, resident families, and community
INTERGENERATIONAL PROGRAM
The SMP Health – St. Catherine South Childcare Center was opened in March 1980. The idea of having children in the nursing home setting was appealing to maintain the home-like environment of our facility. The children engage with residents of the home on a daily basis, hand-delivering birthday cards, visiting one-to-one in residents' rooms, and participating in group activities together.
The SMP Health – St. Catherine South Childcare Center is open to help fill a need for your family. We work to provide an environment that is comfortable for your child and provide appropriate stimulation for their age group. Each child is respected as an individual, and we work to meet his or her needs in a personalized fashion.
OUR GOAL IS TO CREATE AN ENVIRONMENT THAT IS:
Physically safe, clean, and healthful (including nutritious food)
Emotionally warm and supportive
Comfortable and functional
Rich sensorimotor and social experiences
Available for extensive exploration, manipulation, and discovery of objects
Available for social relationships with adults and other children
Consistent and predictable
As you explore options for yourself or your loved ones, it's important to ask the right questions. Our team is here, and we're ready to help you every step of the way.