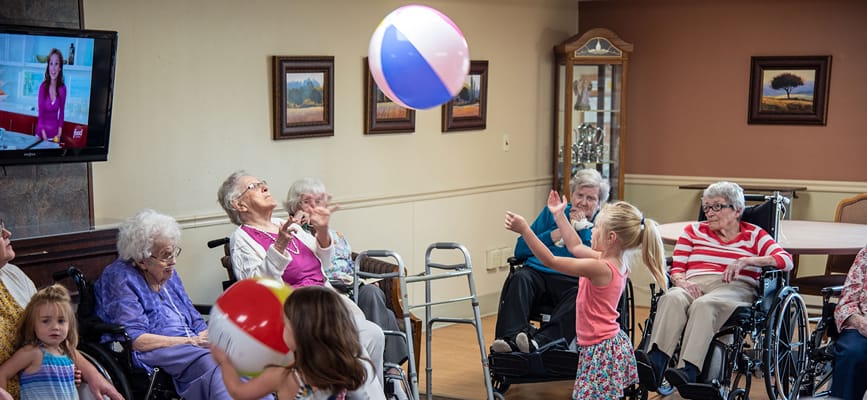 It can be a long road when recovering from a disabling injury or illness. With skilled and experienced health care professionals, including physical, occupational, and speech therapists, we strive to improve our patients' abilities to function and provide basic care for themselves again.
Therapy services are offered to residents who are long-term skilled nursing candidates, short-stay candidates, and outpatients. Our services are covered under Medicare, Medicaid, Workers Compensation, and most private insurance companies.
Following an evaluation of a patient's functional abilities, an individualized rehabilitation treatment program is developed as prescribed by the attending physician.
Our Rehabilitation Programs Include, But Are Not Limited To, The Following:
ADL TRAINING
Adaptive techniques
Assistive devices and equipment
Transfer training
Home assessment
Goal: To maximize functional independence with activities of daily living.
WOUND CARE
Dressing
Debridement
Various modalities
Goal: To increase circulation and decrease edema to facilitate wound healing
APHASIA/COGNITIVE
Communication assessment
Alternative devices
Goals: To reduce frustration by facilitating comprehension, communication needs, and socialization
GAIT TRAINING
LE strengthening
Balance/endurance training
Functional mobility/activities
Amputation retraining
Goal: To achieve safe ambulation throughout the facility and/or home/community as appropriate
BED MOBILITY
Positioning
Mobility training
Trunk stability
Assistive devices/equipment
Goals: To decrease dependence on caregiver, assist with personal care, and increase ability to reposition self to relieve pressure
RESTRAINT REDUCTION & WHEELCHAIR POSITIONING
Positioning
Wheelchair seating assessment
Trunk stability
Pressure relief
Adaptive equipment
Goals: To improve safety of residents by using the most effective and least restrictive restraint, increase sitting tolerance, and reduce risk for skin breakdown
SPLINTING/CONTRACTURE MANAGEMENT
Hand function
Joint ROM
Joint protection/mobilization
Goals: To prevent contractures, preserve skin integrity, protect joints, and increase range of motion of joints for hygiene
DYSPHAGIA
Feeding skills
Oral motor skills
Compensatory strategies
Goals: To improve quality of life by identifying appropriate diet consistency for safe eating, strengthening swallow mechanism, and decreasing the potential for aspiration
REHAB DINING
Cognitive/tactile cueing
Proper positioning
Adaptive equipment
Swallow techniques
Visual compensation
Hand-to-mouth techniques
Goal: To increase patients' self-feeding independence using adaptive equipment/techniques while working with trained staff
It may seem difficult to know if you're asking the right questions as you seek rehabilitation services for yourself or for those you love. Our team is here, and ready to help you every step of the way.